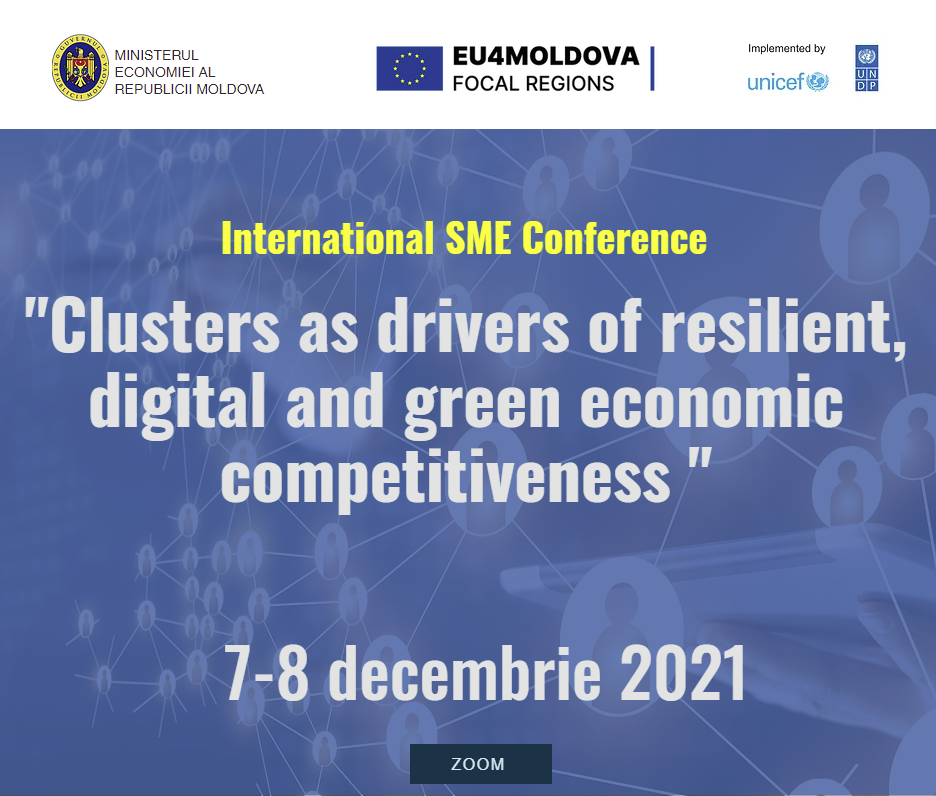 International SME Conference: CLUSTERS as drivers of Resilient, Digital and Green Economic Competitiveness

Against the current global challenges and in line with the EU and national industrial policies, the Ministry of Economy of the Republic of Moldova and the EU4Moldova: Focal Regions Program, with the support of the Organization for Small and Medium Enterprises Sector Development (ODIMM), the Romanian Cluster Association and the DTP "GoDanuBio" project are organising between 7-8 December 2021 the international SME conference covering the topic of "CLUSTERS as drivers of Resilient, Digital and Green Economic Competitiveness".
The event is held online on an international level with broad participation of clusters, businesses, academia, research, public administration, and remarkable speakers that will provide not only valuable knowledge but also opportunities for connecting entrepreneurs and innovation providers at international level.
The first day (December 7) highlights the role of clusters as drivers of green, digital, and resilient economic competitiveness in the Republic of Moldova and will address the following topics:
Conceptualization of the national cluster development policies
Emerging cluster initiatives in Moldova: challenges and opportunities
Funding opportunities for supporting cross-regional value chains
Towards an integration plan: best practices on mobilizing bioeconomy regional excellence
The second day (December 8) debates on the role of clusters in triggering circular bio-economy processes in the regions putting the emphasis on funding opportunities and best practice examples from the Danube Macro Region highlighting the approach of DTP "GoDanuBio" Project.
To participate in the event, please register on the following Registration link.
Details: see the agenda
NB! All times in the agenda correspond to EET Time Zone.
The conference is done in cooperation with the European Clusters Alliance (ECA). On the 8th of December, prior to the conference, we invite you to take part in the Morning Session debate of ECA on bioeconomy taking place between 09:30 – 10:30 EET. Connection link: GoToMeeting