CHORUS Cluster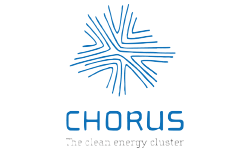 What kind of organisation are we?
NGO
Since when?
2016
How many members?
33
What are our activities?
CHORUS Cluster is a technological cluster operating in the fields of Clean Energy, Clean Tech and Circular Economy. It brings together companies and research entities located mainly in the geographical area of Northern Greece. CHORUS Cluster aims to establish an arsenal of renewable and zero / low carbon footprint technologies, transformable into innovative, integrated products and solutions for the global markets. Its main driving force is "Sustainability through Circular Economy".
What are our projects and priorities?
CHORUS and CHORUS+ Projects are both co-financed by the Hellenic Republic and the European Union promoting strategic priorities in the fields of Circular Economy, Cleaner Environment & Efficient Energy Networks as well as Sustainable Production & Consumption. Emerging strategic priorities include the Digitalization and Green Technologies development of heavy-duty Industries and SMEs.