CLUSTERO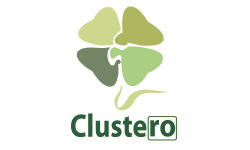 What kind of organisation are we?
NGO
Since when?
2011
How many members?
50
Who do we represent?
Founded in 2011, CLUSTERO is the representative body of Romanian clusters and the main platform of cooperation, exchange of information and support towards the development of the national cluster landscape based on innovation and internationalisation. Currently, the Association gathers 47 of the most active Romanian clusters in the field of textiles, renewable energy, wood and furniture, ICT, agri-food etc. At their turn, they represent 2000 enterprises, 189.000 employees, 9 billion EUR turnover and 1 billion EUR exports (2019).
What are our activities and priorities?
The Association offers information on regulations regarding clusters' activity, sources of financing and events; it supports the establishment and development of clusters as well as the collaboration within and between clusters through network generation; it monitors and assesses cluster performance and organises cluster management trainings and international conferences and events; it supports cluster interests at national and international level. CLUSTERO is a founding member of the European Cluster Alliance, the representative body of clusters at European level, as well as of EUCLES, the newly established body leading the cluster excellence evaluation process. In cooperation with selected clusters, CLUSTERO has already started developing innovative instruments in order to better reach cluster members (especially SMEs with targeted support). The current challenge faced by Romanian clusters and in the wider sense the Romanian economy is their integration into new industrial and digitalised value chains in order to increase competitiveness based on innovation, internationalisation and especially Industry 4.0 approaches.