Clusters.es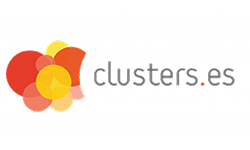 What kind of organisation are we?
National Federation of Clusters
Since when?
2009
How many members?
60
What are our activities?
Clusters.es promotes the cooperation among companies, research centres, associations, clusters, federations, and other innovation-related entities in Spain. The federation brings clusters together on a national level and acts as interlocutor between the "Agrupaciones Empresariales Innovadoras" (Innovative Business Groups), clusters and the public administrations. Clusters.es regularly organises exchanges with and between its members to discuss the latest news and policies, an annual conference, trainings, and seminars, which are tailored to the needs of the clusters. One of the federation´s main focuses is the internationalisation of Spanish clusters and their members, for which Clusters.es has signed collaboration agreements with other networks.  
What are our priorities and projects?
Agility, speed and commitment characterise the Spanish national federation of clusters. It can quickly mobilise its members to act and react for the benefit of the country´s companies. Since the beginning of COVID-19 in March 2020, Clusters.es and its members have organised many initiatives to fight the crisis – from mapping 3D printing capacities within only a few days to trainings for remote working, ICT solutions, innovation projects and recommendations to the public administrations.
Clusters.es not only incorporates individual clusters but also regional federations from Asturias, Cataluña and Navarra. This special constellation allows a wide coverage across the Spanish territory and giving a common and representative voice to the Spanish clusters.