Ukrainian Cluster Alliance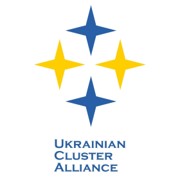 Ukrainian Cluster Alliance
What kind of organisation are we? 
NGO
Since when?
2022
How many members?
48
What are our activities?
The Ukrainian Cluster Alliance is the union of Ukrainian clusters with the strong focus on Industrial and High tech clusters. The war in Ukraine has brought together Ukrainian clusters and SMEs in a unique alliance, the Ukrainian Cluster Alliance.
The UCA has the mission to develop cluster movement in Ukraine in line with principles of cluster policies of European Union and in collaboration with European clusters. To provide quality services to its members, Ukrainian Cluster Alliance develops coordinated activities at the national level which cover all main Ukrainian industries, and which strongly oriented to internationalization of Ukrainian clusters. Ukrainian Cluster Alliance has the structure that aim to support and promote among cluster the initiatives of smart specialization, better integration into European values chains, innovations, digital and green transition.
What are our priorities?
The UCA plays an important role not only in survival of Ukrainian innovative manufacturing enterprises but is one of the main players in Recovery Strategy of Ukraine for sustainable economic growth.
The main strategy directions
Institualisation and Clusterisation
Development and Growth
Internal Matchmaking and Resilence
Internationalisation
Innovations and Digitalisation
The value proposition
GR. We lobby cluster policy in Ukraine.
Internationalisation.We support clusters to be at ECCP. We place needs of Ukrainian companies at ECCP forum. We build international relations at C2C Meetings. We support internationalisstion of our clusters. We build international connections at B2B meeting. We promote our industries at conferences/fora/trade missions. We participate at B2B platforms/fairs.
Internal resilence. We build and recover internal value chains and do internal matchmaking.
Capacity Building. We share knowledge and experience in webinars. We help to develop cluster models and strategies.
Fundraising. We support our clusters and companies in fundraising.
Innovation. We promote and support innovation, start-ups and scale-ups at national and international level.